On Saturday morning, my hubby had to go into work for a few hours and my kids were all playing upstairs. Since I had some extra time, I decided to make a yummy dessert for that night. As you all know, I am a HUGE chocolate fan. If it has chocolate in it, chances are, I will love it. I found a bag of chocolate chips and decided to make chocolate chip cookie pie. Sounds delicious huh? Trust me, it was!! It came out perfect and when we went to eat it, I warmed it up so it tasted just out of oven and was all gooey. Chocolate heaven!!!
Ingredients:
1 unbaked 9″ pie shell
2 large eggs
1/2 cup all purpose flour
1/2 cup sugar
1/2 cup brown sugar (packed)
3/4 cup butter, softened
2 cups semisweet chocolate chips
1 cup chopped pecans (optional)
Directions:
Preheat oven to 325. In a bowl, beat eggs until foamy. Add in flour and sugars. Add in butter. Continue mixing until combined. Add in chocolate chips and pecans, if using them. Pour batter into unbaked pie shell and bake 55-60 minutes. Remove from oven and cool. When serving, be sure to warm it up for a few seconds and add a scoop of ice cream if desired!!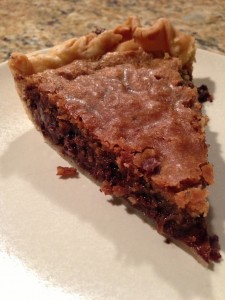 Be sure to like us on Facebook