About a month ago, I made this amazing dish for my family. With all the craziness of the summer, I completely forgot to blog this recipe, so when I found the picture this morning, I knew today had to be this chili bake. When I first told my hubby I was going to be playing around with a chili casserole, his first thoughts went to "chili mac, ummmmm……really"? I was bound and determined to make it flavorful, and something he would be asking for again. That night, we all sat down to dinner and his immediate reaction was "WOW!! This is packed with flavor, much better than anticipated"! I'd call this a major success! I made a few extra pans for friends/neighbors and they too loved it! I served ours with a dollop of sour cream on each serving and even my kids loved this! Not too spicy, hearty, simple to make, and plenty for leftovers the following day! Best part of all, this even freezes perfectly! Make an extra one and put it in the freezer for another night!!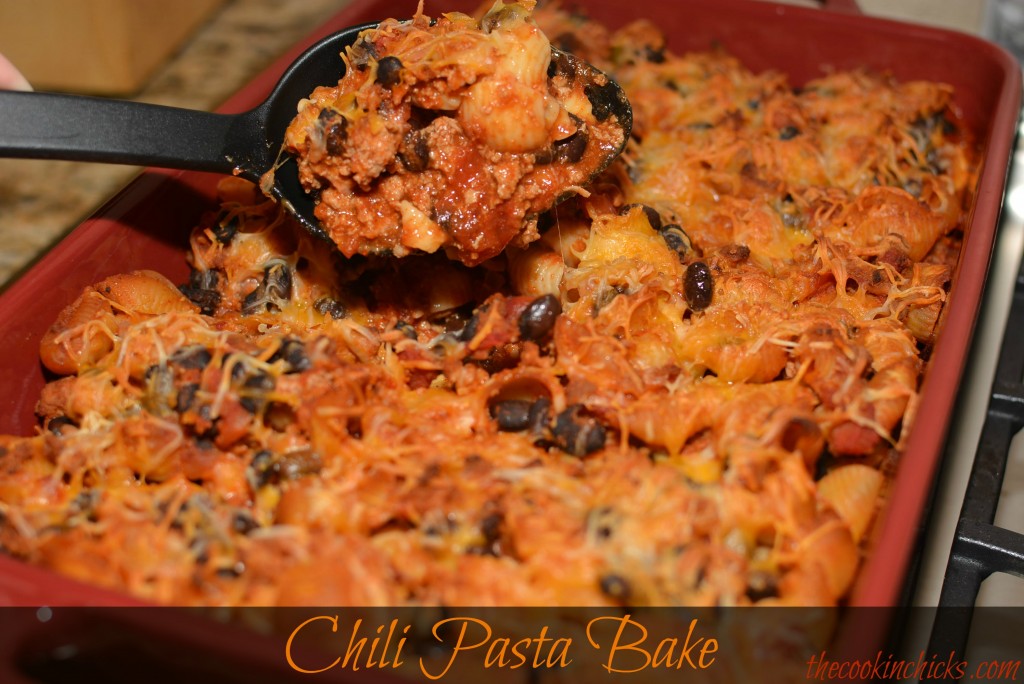 Ingredients:
1/2 tablespoon olive oil
1 lb ground beef or turkey
1 onion, chopped
Salt/Pepper to taste
1/2 lb pasta, cooked (I use shells, but any works)
15 oz tomato sauce
14.5 oz diced tomatoes and green chilies (Rotel)
15 oz kidney beans, drained and rinsed
2 tablespoon chili powder
2 teaspoon cumin
Dash of Cayenne Pepper
1/4 cup water
2 cups shredded cheddar cheese
Sour Cream, for topping
Directions:
Add oil to large skillet and cook meat and onion over medium heat until no longer pink.
Sprinkle some salt and pepper over meat/onion mixture.
While meat is cooking, boil pasta until al dente. Drain water and set aside.
Once beef/turkey is cooked, add in the tomato sauce, Rotel, kidney beans, chili powder, cumin, cayenne pepper, and water.
Allow to simmer for about 5 minutes.
Add in the cooked pasta.
Pour pasta mixture into a 9 x 13 baking pan.
Sprinkle cheddar cheese on top of mixture evenly.
Place pan in preheated oven, 350, for about 30 minutes.
Remove from oven and serve sour cream on top of each serving if desired!
Recipe adapted from: Tasty Kitchen