Do you know what zoodles are?? If not, let me tell you….zoodles are a must try!! They are zucchini noodles using a spiralizer! Now, don't go skipping through this recipe thinking they don't sound good because my kiddos didn't even know they were eating them! HA, they thought I was "cool mom" buying green pasta!
A few weeks back, my aunt mentioned to my mom that she had bought a spiralizer and started making "zoodles" for her family. When my mom passed that info along to me, I immediately went on Amazon to see what a spiralizer entailed. Well, after finding one with great reviews and only about $8, I ordered it immediately! When it arrived, I had already purchased my zucchini and set out making "zoodles". Not only was it incredibly simple to use, but the end result was fabulous! Who knew that skipping real pasta would be so easy and tasty!!
I made a healthier version of chicken parmesan and placed it on top of my zucchini noodles and the entire family, INCLUDING all three kids, loved it!
Enjoy!!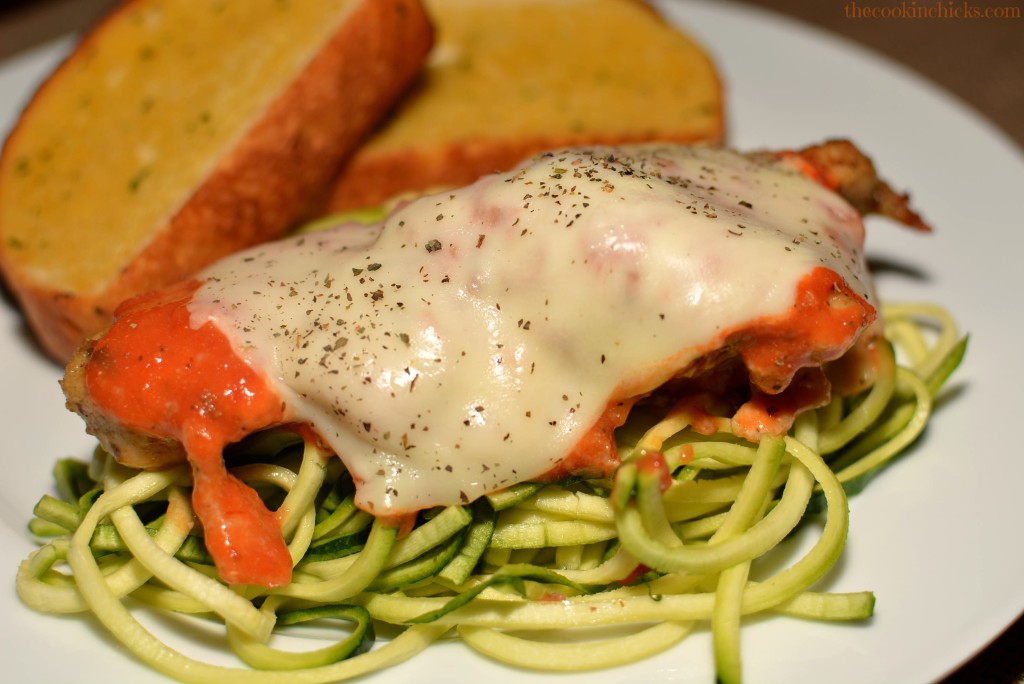 Ingredients:
1/2 cup Italian bread crumbs
1/4 cup Parmesan cheese
1 tsp Italian seasoning
2 tbsp. oil
1 lb boneless, skinless chicken breasts
1 jar tomato sauce (25 oz)
4 Mozzarella cheese slices
4 zucchini's
Directions:
Preheat oven to 425.
Put the bread crumbs, Parmesan cheese, and Italian seasoning into a shallow dish.
Cut chicken into 4 pieces total. *1 lb of chicken for me was 2 large breasts, so I cut into 4 pieces and used my tenderizer to make thinner.
Heat the oil in an oven safe medium skillet and dip chicken into bread crumb mixture.
Once chicken is coated on both sides, place into heated oil.
Allow to cook for about 5 minutes on each side. *It's okay if it isn't completely cooked through at this point, the oven will finish cooking it
Place skillet into oven and allow chicken to finish cooking (about another 5 minutes).
Add the sauce evenly on top of the chicken and place mozzarella cheese on top.
Place skillet back into oven for an additional few minutes, or until cheese is melted and bubbly.
Using your spiralizer, make your zoodles.
Serve chicken over your zoodles and sprinkle some additional Parmesan cheese on top.
Recipe adapted from: Pinch of Yum