I don't know about you guys but I love a yummy soup recipe. It is warm for those cold nights, tastes just as yummy reheated, and typically makes a lot for leftovers!!! This recipe I made for fellow Cookin Chick Tammy after she delivered her third baby, Gracie! I forgot to take a picture of it that night before I brought it over, and didn't want to blog something without a picture, so I decided to make it again, this time for my family. Tammy LOVED it and was saying how yummy it tasted, and she was right, it was a huge hit with my family too! My five year old had two bowls and asked for more for dinner the next night hehe!! Id say this is a recipe I will be making again for sure!!
Ingredients:
5 cups chicken broth
1 can cream of chicken soup
1 cup onions, finely chopped
1 cup celery, chopped
1 cup carrots, chopped
1/2 cup green onion, sliced
1 (15 oz) can whole kernel corn, drained
Salt/Pepper to taste
2 cups pasta (egg noodles are best, but any will work)
2 cups cooked chicken
Directions:
Add all ingredients minus the pasta to your slow cooker. Cook on low for about 6 hours. During the last hour, turn to high and add in pasta. Serve in bowls once cooked!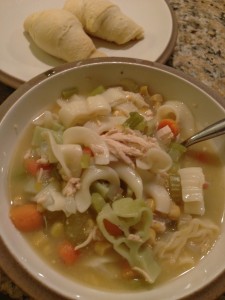 Be sure to
like
us on Facebook