My family loves crescents with our dinners, they especially love when the crescent is their main part of dinner. I stuffed these with a ground turkey and cabbage mixture, and served them with a yummy horseradish type sauce. The end result was a hit with the family. My five year old had seconds and my other two little ones each happily ate their portion up as well. Its always nice having a dinner that goes over well with the whole family!!
Ingredients:
2 packages crescents (I used Pilsbury, the recipe will make a bit more than 2 packages worth, so if you want more, add another package"
1 lb ground turkey or beef
2 cups chopped cabbage
1/2 cup chopped onion
1/2 tsp salt
1/2 tsp pepper
1/2 cup shredded cheddar cheese
1/2 cup mayonnaise
3 tbsp horseradish
Directions:
In a skillet over medium-high heat, cook meat with onion. Once cooked, drain. Add in cabbage, salt, and pepper. Allow to cook about 10 minutes. Remove from heat and cool 5 minutes. Add in cheddar cheese and mix well. On a flat surface, remove crescent dough from package and lay out each crescent roll flat. Semi flatten the dough to make it a bit bigger. Place about 1/3 cup meat mixture on middle of dough and roll up. Pinch edges together creating a "pillow" type pocket. Place on a cookie sheet. Once all crescents are stuffed, place in preheated oven (375) and bake for 15-20 minutes. Meanwhile while cooking, mix together mayonnaise and horseradish in small bowl. Set aside. Once crescents are cooked, serve with sauce on side!!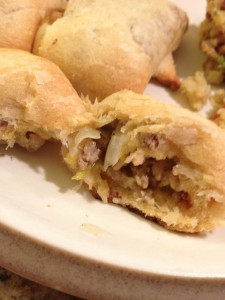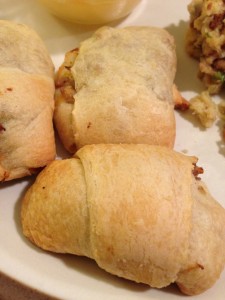 Be sure to like us on
Facebook
to stay connected to us!