With it being Friday, I wanted to bake a yummy treat for the weekend. I scrolled through all the recipes that I had gathered over the last couple of weeks and decided to try a new cookie recipe out. These grabbed my attention because when I think of Bisquick, I think of pancakes or waffles, not cookies ha-ha I was definitely wrong because these came out so yummy and were a huge hit. My kids gobbled them up and it made enough so I could drop some off at friends houses to brighten their day as well.
Happy Friday everyone!!!
Ingredients
1/2 cup butter, softened
1/2 cup white sugar
1/2 cup brown sugar, packed
2 tsp vanilla
1 egg
2 3/4 cup Bisquick baking mix
1 1/2 cups semi sweet chocolate chips
1/2 cup nuts, chopped (optional)
Directions:
In a mixing bowl, beat together butter, sugars, vanilla, and egg. Once combined, add in Bisquick, chocolate chips, and nuts (if using them). Mix ingredients until thoroughly combined. Drop dough by rounded teaspoon onto cookie sheets about 2″ apart. Bake in a preheated oven at 375 for about 9-10 minutes, or somewhat golden brown. Remove from oven and enjoy!! Makes about 3 dozen!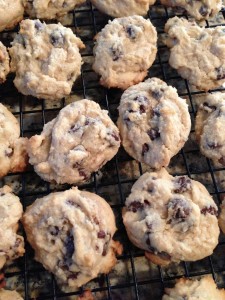 Be sure to
like
us on Facebook