My hubby is a huge fan of breakfast. Me on the other hand, not so much. However, the one thing we both thoroughly enjoy for breakfast is biscuits and gravy. Even my kids are huge fans. Typically, I make it in a casserole form, but since I have been trying to use my cast iron skillet a bit more these days, I changed it up this past weekend. I had this meal on the table in 30 minutes. Literally, from the minute I pulled my skillet it, to the time we were sitting at the table eating, was 30 minutes.
The best part about this recipe is that it calls for ingredients you most likely already have in your house. Everything is made from scratch and is packed with flavor. My oldest son loved this and had his plate cleaned in no time! Whether you make this for breakfast, lunch, or dinner, this is a must try!!
Enjoy!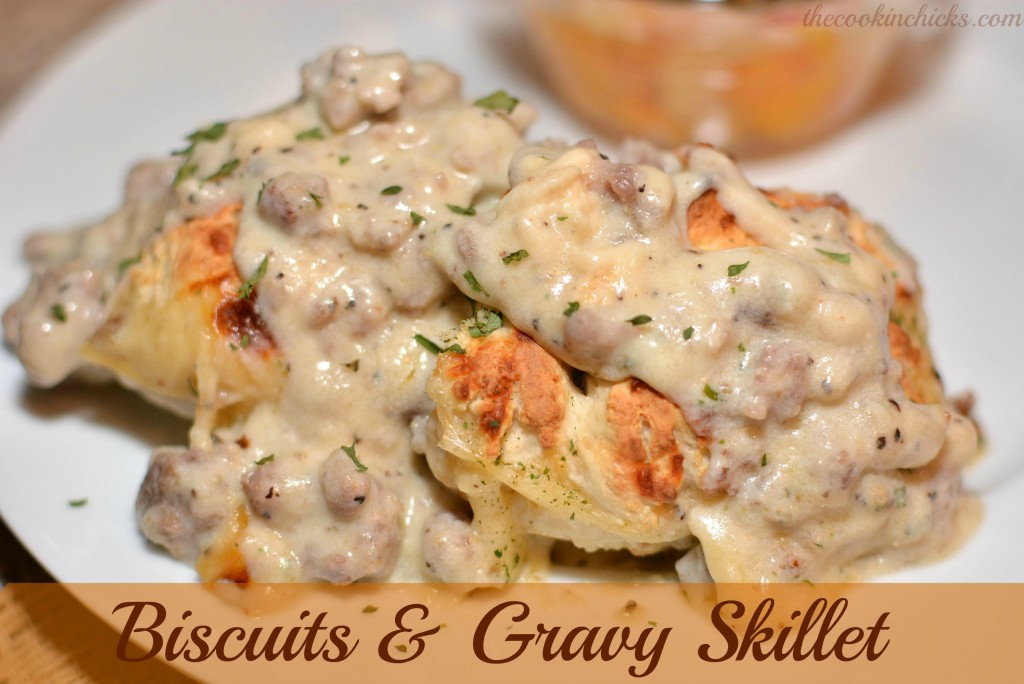 Ingredients:
ROUX
3 tbsp. butter
4 tbsp. flour
BISCUITS
3 cups milk
2 teaspoon ground black pepper
2 cups flour
1/2 cup shredded Parmesan cheese
1 tbsp. baking powder
1 tbsp. sugar
1/2 teaspoon salt
GRAVY
Directions:
In a large oven safe skillet, cook the sausage over medium heat until cooked through.
Use a slotted spoon and put cooked sausage into a bowl. Set aside.
In a medium mixing bowl, combine the 2 cups flour, Parmesan cheese, baking powder, sugar, and salt.
Slowly pour in the 3 cups milk and combine using a fork. Set aside.
Using the same skillet the sausage was cooked in, melt the butter.
Add in the 4 tbsp. flour and allow to simmer for about 3 minutes. This creates your roux.
Pour in your 1 cup milk and whisk to combine. Allow to simmer for about 4-5 minutes, so gravy thickens a bit.
Stir in the sausage and ground black pepper.
Using a 1/4 measuring cup, scoop dough into balls and place around the top of the sausage gravy.
Place skillet onto a cookie sheet and into a preheated oven, 450, for about 11-12 minutes.
Once biscuits are slightly golden brown and cooked through, remove skillet from oven and serve!!