Over the weekend, we celebrated my daughter's 4th birthday. I wanted to make something as a special treat for breakfast. As I have mentioned before, I am not really a huge breakfast person. As I was going through recipes and ideas, I came across this recipe. These pancakes are fluffy, sweet like cake, and a lot of fun! My daughter wanted Halloween sprinkles, so mine don't look very "birthday" like, but you can switch it up to your liking : )
Ingredients:
1 1/2 cups all purpose flour
1 cup yellow cake mix
1 tbsp sugar
1 tsp baking powder
1/2 tsp baking soda
1/4 tsp salt
2 eggs
1 1/2 cups buttermilk *see notes below for substitute
1/2 cup milk
2 tbsp butter, melted
1/3 cup sprinkles
Glaze:
Whipping cream
Powdered Sugar
Directions:
In a bowl, mix together flour, cake mix, sugar, baking powder, soda, and salt. In another bowl, mix together eggs, buttermilk, milk, and butter. Add wet ingredients to the dry ingredients and stir until thoroughly combined. Add in sprinkles.
Scoop about 1/3 cup batter onto heated griddle or skillet. When pancakes begin to bubble on top, flip to the other side for an additional 1-2 minutes. Transfer to a plate until all pancakes are made.
In small bowl, add desired amount of powdered sugar. Add in whipping cream until desired consistency is obtained. Pour onto pancakes and enjoy!!
*As a substitute for buttermilk, you can take 2 tbsp white vinegar and pour into a bowl. Add in 2 cups of milk and allow to sit for 5 minutes. Stir and use mixture in place of buttermilk (only use what recipe calls for 1 1/2 cups)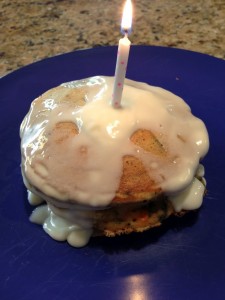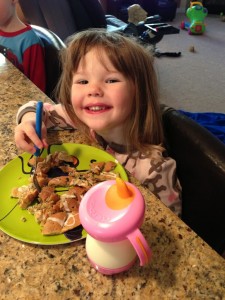 My birthday girl enjoying her pancakes
Be sure to like us on Facebook!!!