This dinner is a cross between spaghetti and lasagna. It has different layers and cheese, so its full of flavor. My family and I gobbled it right up and there was enough leftovers to have a full meal for all of us again tomorrow. That is a winner in my book, one dinner, but two meals. YEA!!
Ingredients:
8 oz uncooked spaghetti
1 lb ground beef
1 large can spaghetti sauce (24-26oz)
1 tbsp butter
1/2 cup chopped onions
8 oz cream cheese
2 tbsp milk
Parmesan cheese
French fried onions

Directions:
Cook spaghetti according to directions on package. Cook until al dente, drain and set aside. Brown ground beef. Drain fat/grease. Add spaghetti sauce and allow to simmer. In a microwavable bowl, place onion and butter inside. Cover and cook for 4 minutes, until tender. Add in cream cheese and milk to onion mixture. Stir until combined. Using a 12×8 baking dish, assemble in the following order; small layer of spaghetti sauce, cooked pasta, onion/cheese mixture, and remaining spaghetti sauce. Once layered, sprinkle with desired amount of Parmesan cheese. Bake in preheated oven at 350 for 25 minutes. Top with french fried onions and continue baking an additional 5 minutes. Serve!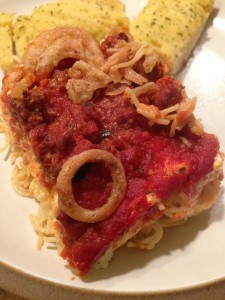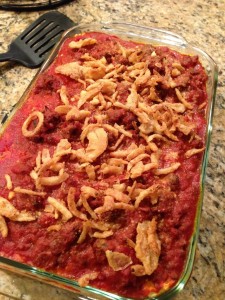 Be sure to like us on Facebook!