Nothing says Fall more than something pumpkin flavored. When I came across this recipe, I changed up a few of the spices, and thought….this screams "Fall". Since I am a HUGE Fall fan, its my favorite season, I decided I had to make these. I went out and bought a donut baking pan. If you do not have one, you can make these into muffins. Trust me, these will be a huge hit and the perfect start to your morning.
Ingredients:
1/2 cup vegetable oil
3 large eggs
1 1/2 cups white sugar
1 1/2 cups pumpkin puree (I used canned)
1 tsp cinnamon
1 tsp ground nutmeg
1/2 tsp ground ginger
1 tsp salt
1 1/2 tsp baking powder
1 3/4 cup + 2 tbsp all purpose flour
Directions:
Add all ingredients to a mixing bowl, excluding flour. Once combined, slowly mix in flour. In a greased donut pan, slowly pour batter until each hole is about 3/4 full. If making muffins, line a muffin pan and pour batter until 3/4 full. Bake in a preheated oven at 350 for 15-17 minutes (23-25 minutes if making muffins). Once cooked, remove from tin. Once muffin/donut is removed, gently shake in a bag with cinnamon/sugar to lightly coat.
Serve warm!!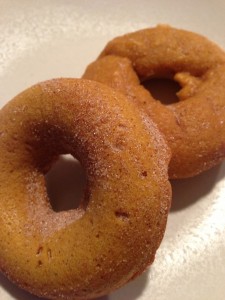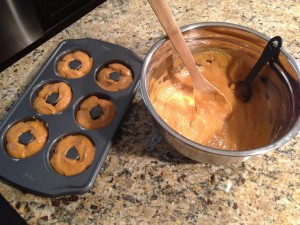 All ready to go in the oven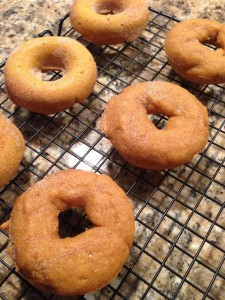 Yummy!!


Be sure to like us on Facebook