This week, I made my chicken pot pie muffins for my neighbors family (remember me mentioning Ashley over the last few weeks??). She made this delicious chicken spaghetti casserole and it was a hit. My kids all ate everything on their plates, and my oldest kiddo must have told me "this is great" at least five times.
This was packed with flavor, changed things up having the diced chicken throughout rather than beef or turkey, and made great leftovers. This would be a great freezer meal also! You can change it up to be more similar to a regular spaghetti dish by substituting beef or turkey in place of chicken. You can add in some mushrooms, sliced zucchini, etc. The possibilities are endless, but this dish will be a hit however you choose to change it up!!
Thanks again Ashley for another amazing dinner!! Be sure to check out her blog here, or follow her on Facebook here!!
Enjoy!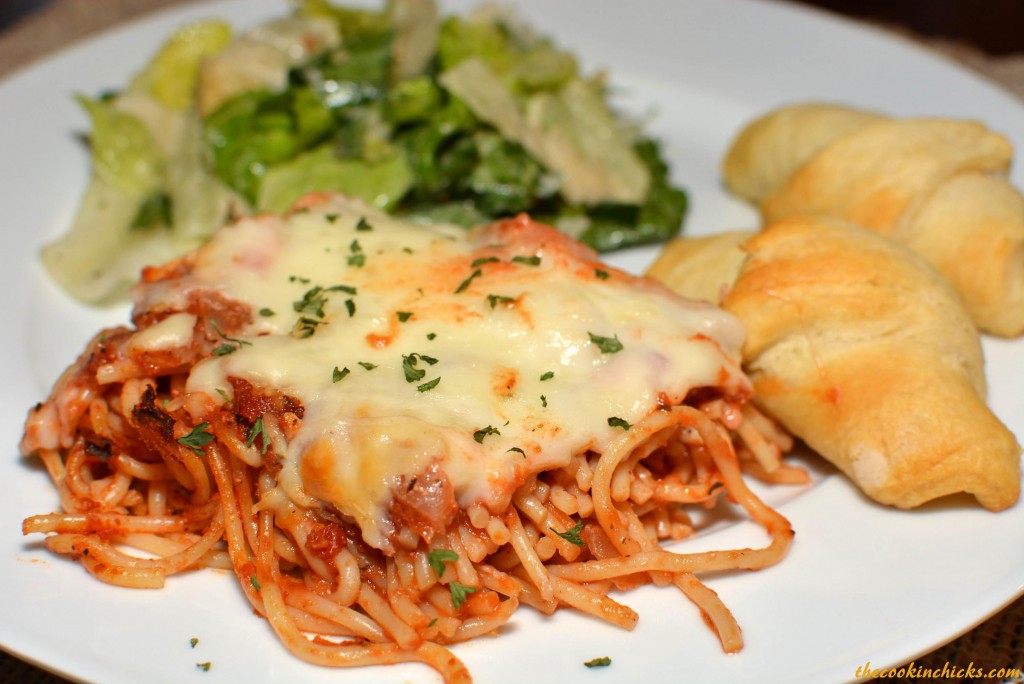 Ingredients:
2 boneless, skinless chicken breasts, cut into 1 inch cubes

8 oz. spaghetti

2 teaspoon oil

2-4 cloves garlic, minced

1 medium onion diced

1 (24 oz.) can diced tomatoes

1 (6 oz.) tomato paste

½ teaspoon oregano

2 teaspoon dry basil

1 teaspoon kosher salt

½ teaspoon pepper

1 cup shredded mozzarella
Directions:
Add oil to a warm pan and let heat up.
Add the garlic and onion to pan, stir and let cook for 30 seconds.
Add cubed chicken and cook 8-10 minutes till done, stirring occasionally.
Pour in the diced tomatoes, tomato paste and the seasonings and stir.
Let simmer on low while you cook the pasta.
Lightly spray the bottom of the pan and pour your cooked pasta into the bottom.
Pour half of the sauce onto the spaghetti noodles and stir.
Add the remaining sauce on top.
Cover with cheese and bake at 350° for 30 minutes uncovered.