My hubby and I love love love fajitas! I am constantly looking for new ways to add variety to them and spice it up. This version is extremely easy, which is why I needed to try it. All you do is literally cut chicken and peppers up, throw them in a dish, toss in the oven and wa-la, dinner is served! I threw this together in about 5 minutes, popped it in the oven, went to get my son from the bus stop, and when we returned, it was done! Yum!! Add some beans and rice to the side, and you have quite the yummy dinner!!!
Ingredients:
1 lb boneless, skinless chicken breasts, cut into strips or cubed
1 (15oz) can diced tomatoes (I used jalapeno and onion seasoned ones)
1 (4oz) can diced green chilies
1 medium onion, sliced
1 bell pepper, sliced
2 tbsp vegetable oil
2 tsp chili powder
2 tsp cumin
1 tsp garlic powder
1 tsp dried oregano
1/2 tsp salt
Tortillas
Directions:
Mix chicken, tomatoes, chilies, onion, and pepper in large bowl. Add in vegetable oil, chili powder, cumin, garlic powder, oregano and salt. Mix together until thoroughly combined. Pour mixture into a greased 13×9 baking pan. Bake at 400 for 25-30 minutes, or until chicken is cooked through. Serve chicken mixture on tortillas with desired toppings (lettuce, cheese, sour cream, salsa…)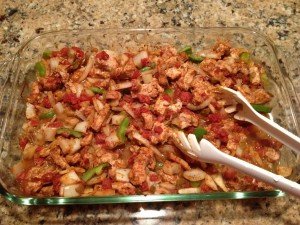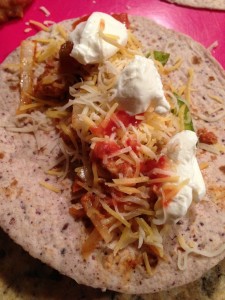 Be sure to
like
us on Facebook!!