These cute little acorns are perfect for kid events, Thanksgiving treats, or just for fun. I had planned on making them for a playdate last week, but my kiddos ended up getting sick, so we never went. I decided to make them randomly yesterday for the kids as a special treat and they just loved them! These are simple and so cute to make, you could put them in a little decorative bag as a treat for some friends, or just make them as a yummy to snack on throughout the day, either way, they are sure to be eaten up!!
Ingredients:
Nutter Butter round cookies (I just bought a few of the to-go snack packs)
Chocolate Chips
Hershey kisses (I used the ones filled with caramel)
Directions:
In a small bowl, melt about one cup of chocolate chips. This will be used as your "glue". Take each hershey kiss and unwrap it. Place a small amount of melted chocolate on the flat side of the kiss. Attach it to the nutter butter cookie. Continue until all your cookies have a hershey kiss attached. Allow to dry for a few minutes. Once chocolate is dry, take some more chocolate chips on place a small amount of melted chocolate on the bottom and attach it to the top of the nutter butter cookie. Once it dries, you are ready to eat them!!!
Enjoy!!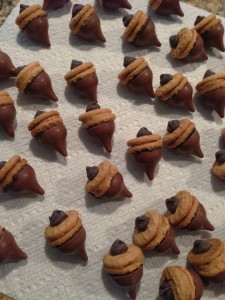 Be sure to like us on Facebook