Since starting the New Year, my hubby and I have been trying to eat a bit better throughout the day. We both had found ourselves snacking, eating a junky type lunch, and generally feeling tired and run down come the evenings.
To help us make better choices at lunch, we decided to meal prep our weekly lunches on Sunday afternoons. So far, it has worked out great and allowed us to "grab and go" our lunches, try new varieties of meat combos, etc. We both have been feeling better since cutting out the junk, have more energy, and lunches are much easier than trying to pack them each night.
This recipe prepares 4 "bowls", so you can change things up one day during the week so it isn't too repetitive!!
Enjoy!!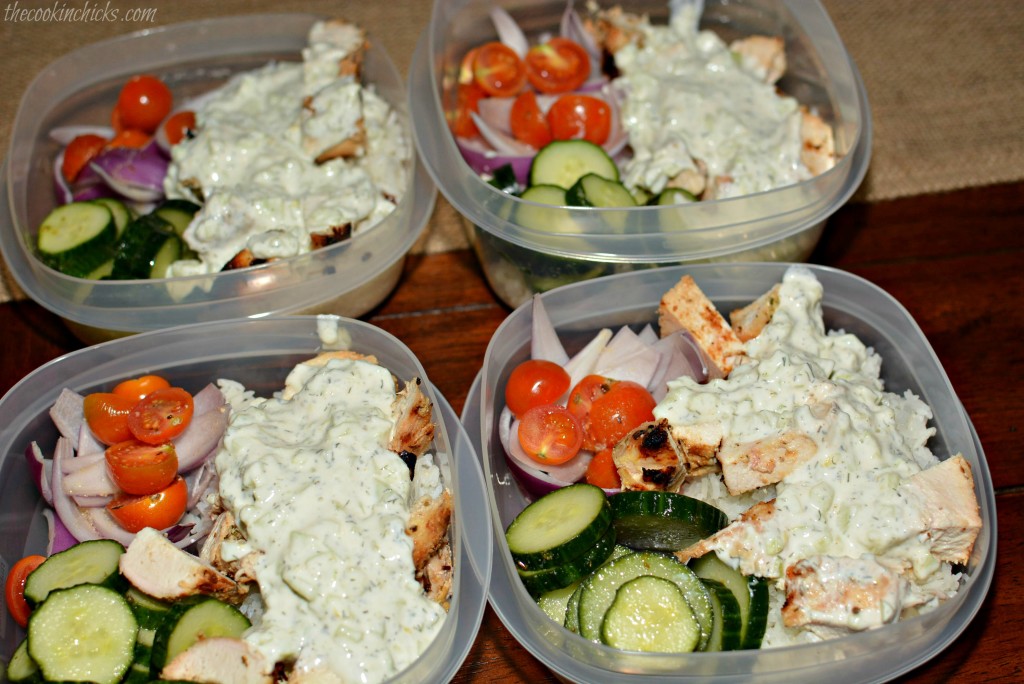 Ingredients:
Greek Chicken
1 lb. boneless, skinless chicken breasts, diced
1/4 cup olive oil
4 garlic cloves, minced
1/3 cup lemon juice
1 tbsp. red wine vinegar
1 tbsp. dried oregano
1/3 plain Greek yogurt
Salt/Pepper
Cucumber Salad
2 cucumbers, peeled and sliced
1/3 cup lemon juice
2 tbsp. olive oil
1 tbsp. red wine vinegar
2 garlic cloves, minced
1/2 tsp dried oregano
Tzatziki Sauce
1 cup plain Greek yogurt
1 cucumber, peeled and sliced
4 garlic cloves, minced
1/2 tbsp. dried dill
1 tbsp. lemon juice
1 tsp lemon zest
Other
2 cups cooked Brown rice
1 cup cherry tomatoes, halved
1/2 cup red onion, sliced
Directions:
In a large bag, combine the chicken, olive oil, minced garlic, lemon juice, red wine vinegar, Oregano, Greek yogurt, and desired amount of salt/pepper.
Seal bag and toss to coat thoroughly.
Allow chicken to marinate a minimum of 30 minutes, up to 10 hours.
Drain marinade and add chicken to skillet.
Cook chicken 4 minutes each side until no longer pink. Set aside to cool.
While chicken is cooling, prepare the cucumber salad by adding the cucumbers, lemon juice, olive oil, red wine vinegar, garlic, and Oregano to a medium bowl. Mix thoroughly. Set aside.
Make Tzatziki sauce by combining the yogurt, cucumber, garlic, dill, lemon juice, and lemon zest in a small bowl. Once combined, set aside.
To assemble bowls, divide rice evenly between 4 containers (1/2 cup of rice, tomatoes, and red onions).
Top with chicken, cucumber salad, and Tzatziki sauce.
Place lids on containers and store in refrigerator.
Recipe adapted from: Eazy Peazy Mealz