When my hubby and I were first married (almost 10 years ago), he had never been to a Panda Express before. I had been with my parents a few times and knew that their orange chicken was a must try. The sauce, crispy chicken, small bite size pieces, etc. made that dish amazing! Since we had a brand new one open up right down the street from our house, we headed there for dinner one night and the hubby fell in love. Fast forward years later, he still LOVES it. Me, I am in a love hate relationship with it. One day it sounds amazing, the other day, eh….it is okay. I think it is due to the fact that sometimes the chicken comes in huge pieces, and I love those small, crunchy pieces the most.
I decided, why not try to make it at home? I could control the size (and quality) of the chicken, it would be healthier, cheaper, and all would be happy. Well, a few tweaks and alterations over the years and I finally came up with something that the whole family loves. Move over Panda Express, you now have some competition, haha!!
Enjoy!!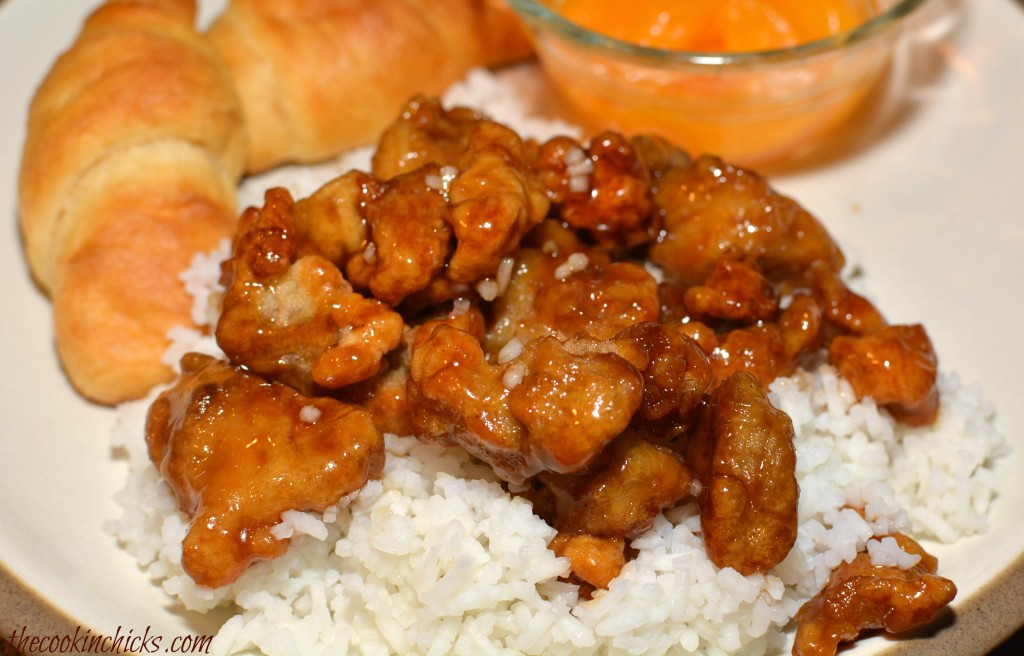 Ingredients:
1 lb boneless, skinless chicken breasts (diced)
1 cup + 2 tbsp. cornstarch
2 eggs, beaten
1 cup vegetable oil
1 cup chicken broth
1/2 cup orange juice
1/4 cup sugar
1/3 cup white vinegar
4 garlic cloves, minced
1 tbsp. orange zest
1 tsp Sriracha sauce
1/4 tsp ground ginger
1/4 tsp black pepper
Directions:
In a medium bowl, whisk together the chicken broth, orange juice, sugar, vinegar, garlic, orange zest, Sriracha sauce, ginger, and pepper.
In a gallon bag, toss the chicken and 2/3 cup of the marinade created from step 1.
Allow to marinate for about 30 minutes.
Remove chicken from bag and discard marinade.
Heat remaining unused marinade in a saucepan.
Bring to a boil and stir in 2 tbsp. cornstarch.
Stir frequently for about 2 minutes, or until thickened.
Working one at a time, dip chicken pieces into egg.
Then, dip each chicken piece into the 1 cup cornstarch.
Heat vegetable oil in large saucepan, working in batches dip chicken into oil until golden brown and cooked through.
Place cooked chicken on a paper towel to collect excess oil.
Toss chicken in a large bowl with marinade. Serve!!