A little while back, a neighbor friend and I started exchanging one meal a week. Fast forward months later and we are absolutely loving it still. I thoroughly enjoy having a night off of cooking, but still being able to have a homemade dinner. Back in April, she made these stuffed shells for us and my hubby and I went crazy over them. Seriously, best ever! Packed with flavor, lots of yummy toppings that were added, and overall, an amazing dinner.
This past week, she made the shells again for us and I knew I just had to share her recipe. Since she too is a fellow blogger, I highly recommend checking out her page. She posts anything from crafts, to recipes, to tutorials and more! Here is her Facebook page, click here; and here is her blog, click here.
Thanks Ashley for the amazing dinner!!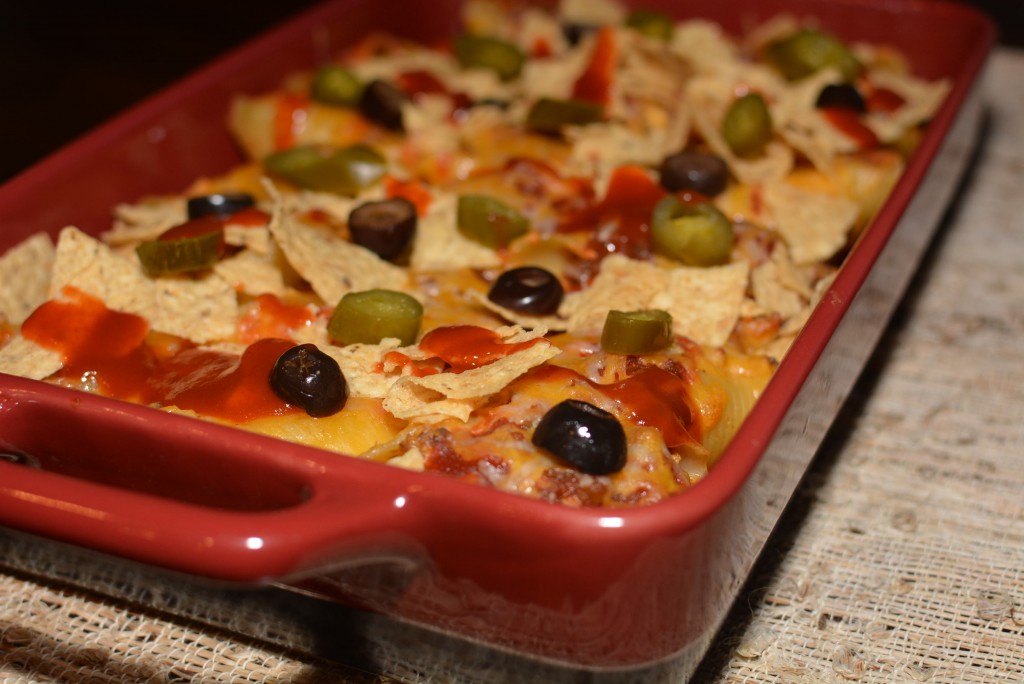 Ingredients:
1 lb ground beef or turkey
1 package taco seasoning
8 oz cream cheese
1 jar salsa
1 jar taco sauce
1 box (1 lb) jumbo pasta shells
2 cups shredded Mexican cheese
1 cup tortilla chips, broken into smaller pieces
Sour Cream/Jalapenos/Black Olives/Lettuce
Directions:
Cook pasta shells according to package directions, cooking until al dente.
Drain shells and lay onto parchment paper to allow to cool.
In a skillet, cook the ground beef/turkey until no longer pink.
Drain fat and add in the taco seasoning and cream cheese, stirring until melted.
Add a spoonful of the meat mixture to the middle of the pasta shells.
Place stuffed shells on the bottom of a greased 9 x 13 baking dish.
Pour the salsa and taco sauce evenly over entire pan.
Cover dish with tin foil and bake at 350 for about 30 minutes.
Remove foil, sprinkle cheese and chips on top and return to oven for an additional 10 minutes.
Remove from oven and serve with desired toppings!! Enjoy!!