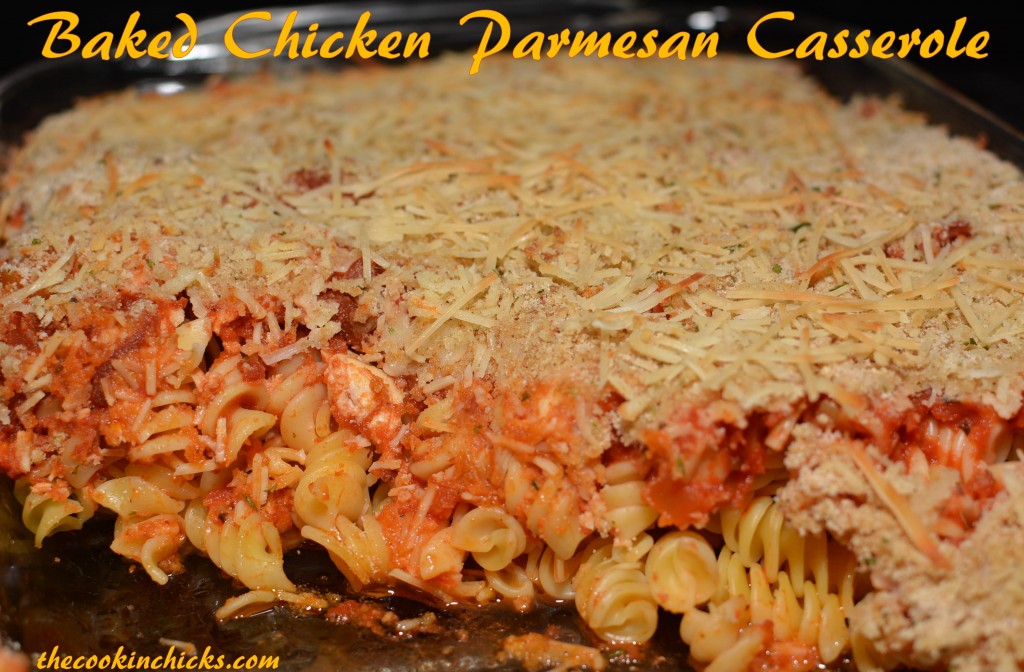 Yesterday morning I woke up with such a craving for Olive Garden's Chicken Parmesan. Yes, you read that right, I wanted some first thing in the morning, weird right?? Anyways, since there isn't one too close by and I didn't feel like dragging the kids to a restaurant, I decided to throw my version together quickly, in casserole form. Not only was this simple to make, but it satisfied my craving and my family happily ate it up. We even have enough leftovers for dinner again tonight! This would be a perfect dinner idea to bring to a friend or family member, or make when company comes over! Best part of this dish is that it can be made early in the day, and popped into the oven later!!
Ingredients:
1 lb chicken, cooked and cut into small pieces
1 lb pasta, any kind desired, I used rotini, cooked and drained
2 tbsp olive oil
3 cups spaghetti sauce
2 cups mozzarella cheese, shredded
3/4 cup Parmesan cheese, shredded
1 cup Italian bread crumbs
1 tbsp Italian seasoning
2 tsp garlic powder
1 tbsp basil
Directions:
In a 9×13 baking pan, combine the cooked chicken and cooked pasta.
Drizzle olive oil over pasta.
Pour sauce over pasta evenly.
Sprinkle Italian seasoning, garlic powder, and basil over entire pan.
Sprinkle bread crumbs over sauce, followed by mozzarella cheese and Parmesan cheese.
Cover pan with foil and bake in a preheated oven, 350, for about 25 minutes.
Remove foil from pan and cook an additional 5 minutes. Serve!!