Now that summer is here, that means its zucchini season! I absolutely love zucchini and since there are so many different ways to enjoy it, stay tuned for several new recipes over the summer months ahead! My three year old is obsessed with this recipe and literally begs me for more! Not only is it simple to make, but its packed with flavor, and a pretty side dish to any meal! Enjoy!!
Ingredients:
2 zucchini (more or less depending on how many servings you need)
Olive oil
Salt/Pepper
Garlic Cloves, minced
Parmesan Cheese
Directions:
Cut zucchini into slices (quarters if desired).
Place cut pieces into a Ziploc bag.
Add about 1-2 tbsp olive oil to the bag (you just need enough to lightly coat each zucchini piece).
Seal bag and shake around until zucchini is coated.
Open bag and place zucchini on a cookie sheet. (I always line with foil to make clean up a bit easier)
Sprinkle salt, pepper, and garlic over the zucchini pieces.
Place into a preheated oven, 375, and bake for about 20-25 minutes, or until zucchini is soft and somewhat golden in color.
Remove from oven and sprinkle Parmesan cheese on top.
Serve!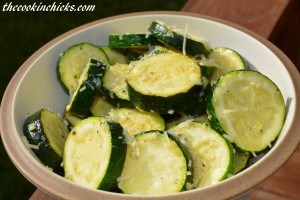 [AdSense-A]