I don't know about you, but my house is LOADED with Halloween candy. Since my kids are all 6 and under in age, I am the one that is sneaking a few too many pieces after they go to bed. I know, I know, bad mama points, but c'mon, you know you are doing the same thing too, right? Or at least that is what I am telling myself as I am eating my 2nd Reese's of the night, LOL!! Anyhow, I decided to take some of their candy, cut it up into small pieces, and make these cookies. The kids LOVED them!!! These are yummy because each bite is different since some bites may have m & m's, while other bites will have caramel and peanuts! If you are trying to use up some of that candy, here is a fun way!! I ended up taking the rest of the candy after these cookies and giving it to a friend, I definitely needed it out of my house, I was turning into the candy monster, ; )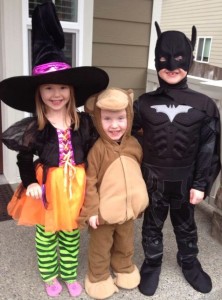 Ingredients:
1/2 cup butter, softened
1/2 cup vegetable oil
1/2 cup sugar
1/2 cup brown sugar
2 eggs
1 tsp vanilla extract
1 tsp baking soda
1 tsp baking powder
1/2 tsp salt
3 cups flour
Chopped up Candy (I ended up using about 12 fun size pieces, but you can use as many or as little as desired)
Directions:

MY LATEST VIDEOS
In a bowl, cream together the butter, oil, sugar, and brown sugar. Once creamy, add in the eggs and vanilla. Slowly add in the baking soda, powder, salt, and flour. Once combined, fold in the chopped candy pieces. Scoop out dough into balls and place on cookie sheet. Bake in a preheated oven, 350, for about 10 minutes. Enjoy!!