In the Fall and Winter, there is nothing more comforting than a yummy bowl of soup, right? Yesterday, we had great weather, and it was surprisingly warm for being mid October in Seattle,WA. However, I decided I needed to make it a soup night. I threw all the ingredients in my slow cooker before my day got going, and come dinnertime, this yummy meal was ready to eat. My kids ate it all up as did my hubby and we all had happy tummies. 
Ingredients:
6-7 large potatoes, peeled and cubed
1 onion, diced
4 cups chicken broth
5 garlic cloves, minced
1/4 cup butter
Salt/Pepper (to taste)
1/2 cup cooked bacon, crumbled
1 cup whipping cream or half and half
1 cup cheddar cheese, shredded
Chives/Green Onion/Sour Cream
Directions:
In the slow cooker, place chopped potatoes, onion, chicken broth, garlic, butter, salt, pepper, and crumbled bacon.
Place lid on top and allow to cook on low 8 hours, or high 4 hours.
Once potatoes are cooked and tender, gently mash them to desired texture using a potato masher.
Stir in whipping cream and cheese and cover with lid for an additional 10 minutes.
Serve in a bowl topped with additional cheese, sour cream, chives, green onion, etc.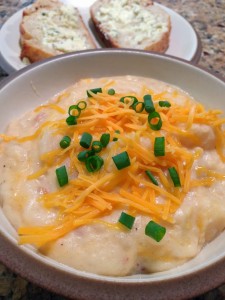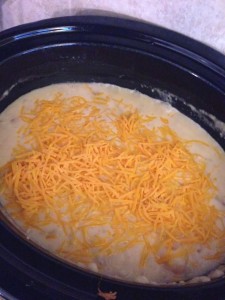 [AdSense-A]