Yesterday, my hubby stayed home from work because he was not feeling well. Between trying to catch up on chores around the house, watching the kids, and taking care of the sick hubby, it didn't leave much time for dinner prep. I needed to whip something up quickly and this was just the thing. It only took a few minutes to make and ended up being a hit with everyone. Tonight we get to enjoy the leftovers, so I get the night off from cooking. YEA!!! 
Ingredients:
2 cans cream of chicken soup
1 1/2 cups milk
1 cup sour cream
1/4 cup chicken broth
1/2 tsp black pepper
1 tsp dried thyme
1 tsp garlic powder
3 cups cooked, shredded chicken
3 cups mixed vegetables (slightly thaw a frozen bag)
2 cups southern style hash browns (thawed)
1 can crescent rolls

MY LATEST VIDEOS
Directions:
In a large bowl, combine soup, milk, sour cream, and broth. Add in the pepper, thyme, and garlic. Once well combined, add in the chicken, vegetables, and hashbrowns. Pour mixture into a lightly greased 9×13 baking pan. Open roll of crescents and lay flat. Using a pizza cutter or knife, cut long slices of crescents and lay on top of casserole. Bake casserole in a preheated oven, 350, for 40-45 minutes, or until crescents are golden brown and casserole is bubbly. Remove from oven and allow to sit for about 5-10 minutes (this will allow it to thicken up a bit) Serve!
Recipe Adapted from: The Cooking Mom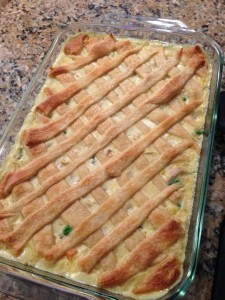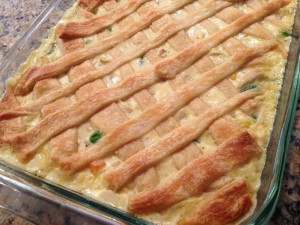 [AdSense-A]