Ever since I made my s'more cups, I have been in s'more mode. Nothing says summer to me like a yummy s'more. Stay tuned for more recipes involving the yummy sweet. This version is my most favorite so far. I am obsessed with brownies, so to have s'mores with brownies, is the perfect combo. They turned out so cute and taste heavenly! Definitely try these, and while you are at it, maybe send me a batch so I can be your official "taste tester" hehe!! : )
Ingredients:
1 cup graham cracker crumbs
10 tbsp unsalted butter
1/2 cup plus 1 tbsp sugar
Pinch of Salt
1 1/2 cups semi-sweet chocolate chips
2 eggs
1 tsp instant espresso powder
1 1/2 tsp vanilla extract
1/4 cup all purpose flour
3/4 tsp baking powder
2 1/2 cups mini marshmallows

MY LATEST VIDEOS
Directions:
Preheat oven to 350.
Line an 8 inch pan with tin foil, leaving foil hanging over the sides.
Spray pan with non stick cooking spray.
Place graham crackers into food processor and pulse until crackers are turned into crumbs.
Melt 4 tbsp butter in the microwave.
Pour melted butter into food processor.
Add in 1 tbsp sugar, 1/4 tsp salt, and pulse to combine. Press mixture firmly into bottom of 8 inch pan.
In a large bowl, melt chocolate chips with remaining butter (6 tbsp).
Once melted and combined, allow to cool about 10 minutes, stirring every few minutes.
Add in remaining sugar (1/2 cup), eggs, espresso powder, vanilla extract, and 1/4 tsp salt.
Add in flour and baking powder. Stir until smooth.
Pour batter over crumb layer in baking pan.
Place pan in oven and cook about 30-35 minutes, or until toothpick comes out clean once inserted in middle.
Remove from oven and sprinkle marshmallows on top.
Set oven to broil and place pan back in oven. Allow them to broil for about 2-3 minutes, or until golden brown.
Remove from oven. Allow pan to cool about an hour or so before removing foil from pan.
Lift sides and place brownies on flat surface. Carefully cut into bars.
Serve!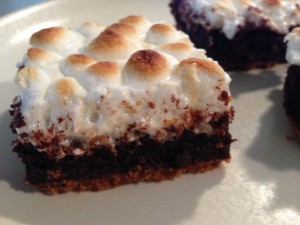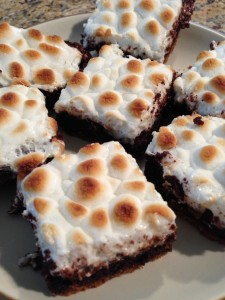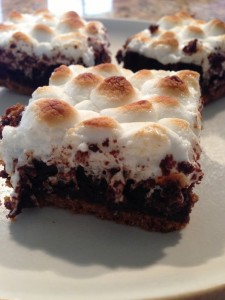 [AdSense-A]