A while back, my mom and I took my kids to the local fruit picking farm and had a fun time picking fresh blueberries. After a while, we wondered why we weren't collecting too many, only to find out, my son was eating the ones we were picking, hehe. After we got a few pounds and brought them home, I put them in a freezer safe bag and slowly but surely, have been using them throughout the months. Its perfect to have on hand for blueberry muffins, cake, desserts, and more. I used some in this yummy blueberry breakfast cake! I cant wait until the blueberries are ready for picking again this year!!!
Ingredients:
1/2 cup unsalted butter
1-2 tsp lemon zest
3/4 cup + 1/2 tbsp sugar
1 egg, room temperature
1 tsp vanilla extract
2 cups flour (set aside 1/4 cup to use separately)
2 tsp baking powder
1 tsp salt
1-2 cups blueberries (I used 1 1/2 cups)
1/2 cup buttermilk*
*If you do not have buttermilk on hand, you can put 1 tbsp white vinegar into a measuring bowl. Add milk to the vinegar filling it to the 1 cup line. Allow to sit for 5 minutes. (this recipe will only use half of the buttermilk substitute)
Directions:
Preheat oven to 350. Cream the butter, lemon zest, and 3/4 cup of sugar together. Add the egg and vanilla, mix until combined. In a separate bowl, mix 1/4 cup flour with the blueberries and set aside. Meanwhile, add flour, baking powder, and salt into a bowl. Slowly add flour mixture into butter mixture, alternating adding buttermilk in at same time. Once all ingredients are combined, slowly fold in blueberries. Dont overmix the blueberries as it will turn the batter purple (as it did to mine, oops, hehe). Grease a 9 inch baking pan and pour batter into it. Sprinkle remaining 1/2 tbsp sugar on top of batter. Bake in oven about 35-45 minutes, or until toothpick comes out clean.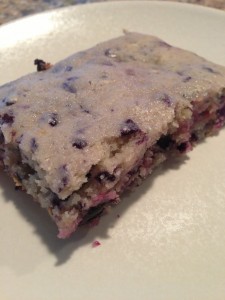 As you can see, I got carried away with mixing in my blueberries, leaving some of the batter purple. Still tastes amazing, just not as pretty, : )
Recipe adapted from: Alexandra Cooks