These yummy taquitos were super easy to throw together, in fact, my two year old and four year old helped me to make them! The kids and us loved them and I would say that they were most definitely kid friendly, even for my youngest one. We ended up having about 10 leftover, so I threw them in the freezer and my hubby has been taking them each day for his lunches at work!!
Ingredients:
4 oz (1/2 cup) cream cheese
1/3 cup green salsa (use more or less depending on desired taste)
1 tbsp lime juice
1/2 tsp cumin
1 tsp chili powder
1/2 tsp onion powder
1/4 tsp garlic powder
1 tsp dried cilantro
2 tbsp sliced green onion
2 cups shredded Pepperjack cheese
2 cups cooked, shredded chicken
20 flour tortillas (6 inch size works best)
Cooking spray
Directions:
Preheat oven to 425. Line a cooking sheet with foil and lightly coat with cooking spray. In bowl, mix together cream cheese, salsa, lime juice, and spices together. *Microwave cream cheese for about 20-30 seconds making it easier to mix.
Fold in green onion, cheese, and chicken. Scoop a small amount (about 3-4 tbsp) of chicken mixture on to torilla and roll up tightly. Place seam side down on cooking sheet and spray with cooking spray. Once all are filled, place in oven and bake for about 15-20 minutes, or until crispy and golden brown.
I made a salsa ranch dip using equal parts of ranch dressing and salsa. (I used 1/2 cup of each and had leftover dip to include in my hubby's lunch).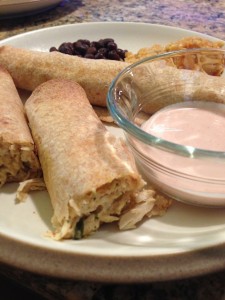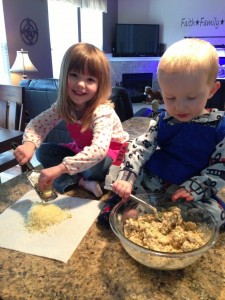 My helpers!!