I came across this recipe on Pinterest and was quite intrigued. I didn't know what to expect when putting it together because the name "bourbon" made me think of whiskey, but I knew that had to be wrong. Well, yes, that was most definitely wrong….it is more like a teriyaki type dish and quite tasty! It had a slight kick to it, but my kids ate it, so it wasn't too bad at all!! Give it a try, I think you will like it too!!!
Ingredients:
2 lbs boneless, skinless chicken breasts
3 garlic cloves, minced
1/4 tsp ginger
1/4 tsp crushed red pepper flakes
1/4 cup apple juice
1/4 cup brown sugar
2 tbsp ketchup
1 tbsp cider vinegar
1/2 cup water
1/3 cup soy sauce
Directions:
Place chicken on the bottom of a slow cooker. Add all the ingredients on top. Close lid and cook on low 6-7 hours, high 4-5 hours. Once cooked, use a fork and shred the chicken. Serve over rice.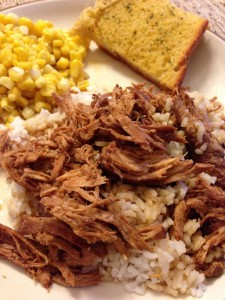 Be sure to like us on Facebook