This yummy snack/dessert is AMAZING!! I will warn you, it is quite addicting. You cant just have a few bites and walk away. You will find yourself coming back for more. If you love chocolate and peanut butter, you will love this! Just tell yourself that this is healthy and all will be well, hehe!!!
This is often referred to a muddy buddies, so if you are confused on what puppy chow is, maybe you have heard of it called muddy buddies : )
Ingredients:
9 cups corn chex cereal
1 rounded cup semisweet chocolate chips
1/2 rounded cup peanut butter
1/4 cup butter
1 tsp vanilla
1 1/2 cups powdered sugar
Directions:
In a large bowl, measure cereal and place in bowl. Set aside. In microwavable bowl, mix chocolate chips, peanut butter, and butter. Microwave in 30 second increments until melted. Stir in vanilla. Pour chocolate mixture over cereal and mix until cereal is evenly coated. Pour cereal into 2 gallon resealable bag. Add in powdered sugar and shake until cereal is coated. Place coated cereal on wax paper to cool. Store in airtight container!!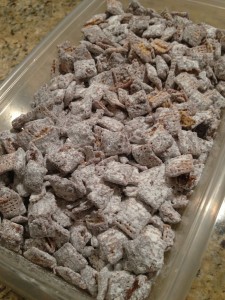 Be sure to
like
us on Facebook